Time-Resolved Infrared Spectroscopic System (short IR, mid IR) (10000-800cm-1)
Nanosecond Time-resolved Near-/mid-infrared Spectroscopic System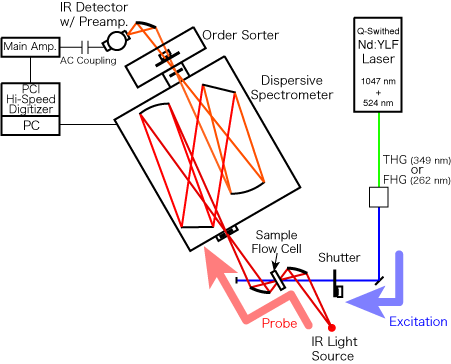 Fig. 1. Setup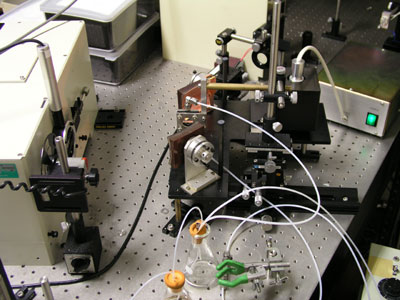 Fig. 2. Apparatus
Scan limit: 10000cm-1
Sensitivity: ΔA < 10-6
Rep. rate: ∼ 1200Hz
Observation of Low-lying Excited-triplet States of Acetophenone (AP)
Solvent polarity and the photo-induced H abstraction rate of AP
Table 1. Rate

| Solvent | kr [M-1s-1] |
| --- | --- |
| Benzene | 1.2×106 |
| Acetonitrile | ∼0.2×106 |
| Water | 0.05×106 |
Inversion of the T1 and T2 state ordering of acetophenone accounts for this change in the reaction rate?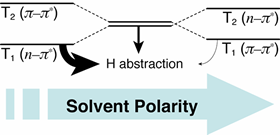 Fig. 3.
Time-resolved near-/mid-infrared spectroscopy
Relative position of the T2 state can be determined by observing the transition between the T1 and T2 states.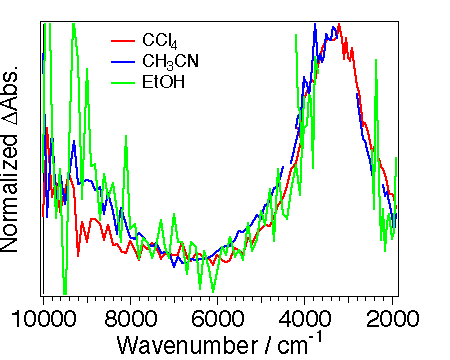 Fig. 4. Result
The infrared absorption band assignable to T2(π-π*)←T1(n-π*) electronic transition does not change aprreciably with solvent polarity!