Femtosecond Time-Resolved Near-Infrared Spectroscopic System
Femtosecond Time-Resolved Near-Infrared Spectroscopic System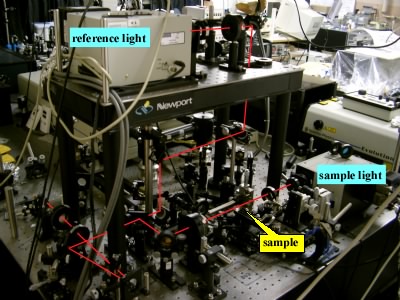 Fig. 1. Apparatus
The second harmonic of the output of a Ti:sapphire regenerative amplifier (395nm, 1kHz, 200fs) is used as the pump light. The white light obtained by the self-phase modulation with the same amplifier output on a sapphire plate is used as the probe light.
Two sets of near-infrared polychromators and InGaAs array detectors (256 channel) are used for recording reliable time-resolved near-infrared spectra. Spectral coverage of the polychoromator is 900-1500nm.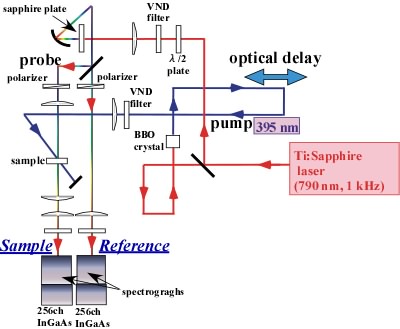 Fig. 2. Femtosecond time-resolved near-infrared spectroscopic System. Pulse duration ∼200fsAExcitation wavelength 395nm
Sample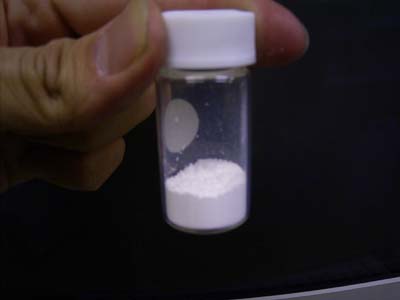 }3: Titanium dioxide
}4: Diagram
Titanium dioxide (TiO2)
White powders
When TiO2 is photoirradiated, electrons and holes are generated. They eventually oxidize or reduce the reactants on the surface of the TiO2 particles.
Direct absorption measurements with NIR. In the near-infrared region, transmittance of TiO2 is large facilitating the direct transmission measurement of absorption.
Femtosecond time-resolved near-infrared study

Transmission measurement is possible in the near-infrared region (900-1600nm).
We can measure the early-stage dynamics of charge carriers photogenerated in the TiO2 powders.
Results (Time-resolved near-infrared absorption spectra)